As we come close to the end of another year, we would like to take a look back and summarize the achievements of our brand during 2021.
First of all, we would like to acknowledge that 2021 was another challenging year for everyone in Canada and the world. We think it's important to recognize the fact that while we all faced some of the toughest challenges we have witnessed in recent history, we have also seen how hard work is making us keep going.
That hard work has inspired us to keep growing and innovating. Besides the fact that our products are now available in more stores and supermarkets across Canada, here is a list of the most  relevant achievements from Casa Bonita in 2021:
Tajin Chips – After a few years working with Tajin, we decided to venture with a new product (Casa Bonita Foods is the authorized distributor for Tajin in Canada). The Casa Bonita corn tortilla chips with Tajin are a truly unique combination that blends delicious flavours. You can get a bag at your favourite grocery store across Canada or our online store.
Casa Bonita Salsas – The perfect addition to our line of products. After some time working with the right partners in Mexico, we were glad to introduce three unique salsa flavours to the Canadian market in 2021:
Fire Roasted Chipotle salsa
Roasted Jalapeño salsa
Fire Roasted Habanero salsa
These delicious salsas are now available at select retailers in Canada (more to come in 2022) or via our online shop.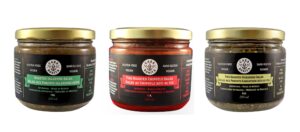 Collaborations with partners – Besides our new products and collaborations with other Mexican brands, we have now started to partner up with retailers in Canada to produce their line of Mexican snacks. During the last year, we helped Farm Boy to launch these two products:
Farm Boy Tostadas – Gluten-free and made with yellow corn.
Farm Boy Salsa – Made with tomatillo and fire-roasted jalapeno.
You can find more information about the products listed above here. We are currently working with other companies in Canada to develop more high-quality products. You can expect more details in 20202.
We would also like to take the opportunity to thank all of our customers and partners. Without your support, none of this would've been possible. We hope you all the best for the year to come! We think 2022 will be a better year for everyone, and we are thrilled to share more achievements with you in the coming months.
Happy new year from the Casa Bonita team!