Father's day is around the corner, and the team at Casa Bonita is very excited about it! Therefore, we wanted to share a few suggestions if you plan to cook or prepare some drinks on Sunday.
Let's start with the food.
Wondering what the best taco recipes for father's day are?
Here are our top three options:
Tacos al Pastor

 – Go with a classic; almost every dad might want to keep it simple on their day. Trust us, many dads in Mexico will choose this option on Sunday for either lunch or dinner. Want to make them a little different? Try them with 

blue corn tortillas

.

Baja Tacos

 – Your dad likes fishing? Then you should strongly consider cooking some delicious fish tacos for your dad this weekend. Want to spice things up? Try adding some 

Tajin Habanero

 to the recipe.

Chilaquiles

 – Do you want to surprise your dad with breakfast? Say no more and follow this fantastic Breakfast Chilaquiles recipe. Want to make them extra special? Add some beer flavour with these delicious beer chips made in collaboration with Steam Whistle.
Now let's talk about drinks! Here are our suggestions:
Beer – We talked about classic tacos al pastor, and what better than a traditional dad drink. Get your dad some cold beer to enjoy with his tacos, and what better than our absolute favourite beer, 

Steam Whistle

!

Lemonade – What about a delicious lemonade instead if your dad doesn't drink beer? Get a unique twist with this amazing 

Rhubarb Lemonade with Tajin Clasico

. We guarantee your dad will love it!

Caesar – Another perfect drink for the warm weather, refreshing and spicy! If you are also looking to enhance this great drink, 

you can do that with Tajin

.
Did we say giveaway in the title? Yes, we did, and we are glad you made it to this part of our post, as you can win a fantastic prize pack for your dad.
Casa Bonita and @withlove_duquettes are partnering with some of your favourite brands to host the Ultimate Backyard Giveaway for Father's Day! – UPDATE CONTEST CLOSED.

We want to give you and dad the ultimate prize pack to celebrate the day from the comfort of your own home! 
Enter to win: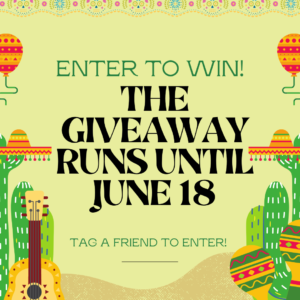 -Casa Bonita/Tajin prize pack, featuring $200 worth of our delicious corn tortillas, salsas, hot sauces and seasonings
-@SteamWhistleBrewing 24 pack with $50 merch ($125 value)
-@MEC Ultra Lite Highback Camping Chair ($124.95 value) 
-@BigChiefBeef Road Trip Box ($34.00)
TOTAL VALUE: $483.95
To enter:
-Like this post and make sure you're following @casabonitafoods, @withlove_duquettes, @steamwhistlebrewing, @mec and @bigchiefbeef 
-Tag your favourite dad below (multiple entries welcome with 1 tag per entry)
-Share this post to your stories for 20 extra entries
The giveaway will run until 11:59pm, PST on June 18, and @withlove_duquettes will be announcing the lucky winner LIVE via their stories on Father's Day, June 19. Happy tagging, and we hope you give your dads some love this Father's Day!