July 1st is almost here, and this year we wanted to give you a few ideas if you're going to celebrate Canada Day with some delicious food and drinks. We also have launched a new contest on Instagram, and this time we partnered with some great local Canadian brands! All details are included at the end of this post.
Whether you celebrate at home in your backyard, with friends at a nearby park, or perhaps by going to a cottage, Canada Day is an excellent opportunity to enjoy some outdoor time.
Here are some ideas that our team wanted to share with you if you are planning for the perfect Canada Day outdoor celebration (these include a little bit of red and some Canadian ingredients, of course!):
It's summer, and we know it's very likely that your celebration might include a BBQ. If you are planning to grill some delicious meat and vegetables, what about making some tacos with delicious corn yellow tortillas? With the right tortillas, making tacos it's easy, and you can heat up the tortillas directly on the grill. Just remember to do it on the side of the grill or where the heat is not too intense. Getting the perfect temperature to make your tortillas soft will take a few seconds.
Want to add colour and lots of flavour to your tacos? How about our red salsa made with Chipotle chillies.
If you are looking for inspiration on an alternative to prepare something not on the grill, go ahead and check our recipes section for some flavorful options.
Are you planning to bring something to snack for the celebration? Bring some chips! You really can't go wrong with that. You can try the traditional corn tortilla chips or something with a little kick and a hint of red colour like these Tajin Chips. If you want to show off a little more and impress your friends, how about preparing some nachos as the appetizer? These chicken BBQ nachos include Canadian Bacon and Tajin for a unique twist.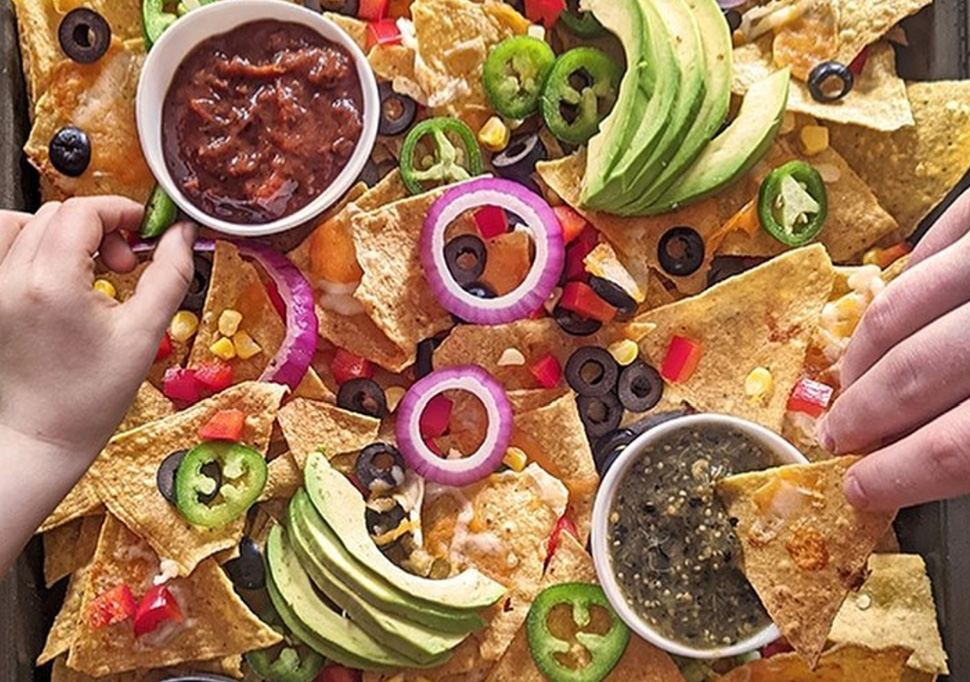 For the drinks, you could go with a Canadian Rye or maybe a local wine from Ontario or BC, but if you want to keep it simple, go with a genuinely local beer like Steam Whistle, Canada's Premium Pilsner. If you want the perfect combination of beer and chips, try our collaboration with Steam Whistle. Our Beer Chips are a truly Canadian blend!
For the sweet at the end, we recommend you try this fruit salad made with lots of local strawberries! It's perfect for summer as it also includes some peach, mango, lime, and our favourite seasoning mix.
—
GIVEAWAY TIME: We've got another epic prize pack for your Canada Day adventures! 
We've partnered up with @cathysdiaryyy to take care of your summer festivities in style with Casa Bonita, Tajin and some other great Canadian brands that we love!
THE PRIZE:
-Casa Bonita/Tajin prize pack, featuring $200 worth of our delicious corn tortillas, salsas, hot sauces and seasonings
-$100 Party Pack c/o @OleCocktails 
-His + Hers socks c/o @FridaySockCo
-Fleece Unisex Sweatshirt, Tote and Water Bottle from @CampBrandGoods 
To enter:
-Like this post and make sure you're following @casabonitafoods, @cathysdiaryyy, @olecocktails, @fridaysockco and @campbrandgoods
-Tag your summer adventure buddy below (multiple entries welcome with 1 tag per entry)
-Share this post to your stories and tag @casabonitafoods for 20 extra entries
The giveaway will run until 11:59pm, PST on June 30, and we will be announcing the lucky winner on Canada Day, July 1. Happy tagging, and we hope you all have an excellent long weekend coming up!
This giveaway is not affiliated with Instagram. The winner must be 19 or older.  
Links to Camp Brand Items:
sweatshirt:
https://campbrandgoods.com/collections/womens-campfleece/products/campfleece-unisex-sweatshirt-trailblazer?variant=42494712021228
tote:
https://campbrandgoods.com/collections/accessories/products/hikers-tote-bag
water bottle:
https://campbrandgoods.com/collections/accessories/products/wavy-camp-water-bottle-32oz